Reasons for participating in Beviale Moscow

Take your place at Russia's most sophisticated business platform for the beverage industry. You wonder why to exhibit there? Here are some good reasons why you should not miss this opportunity and exhibit your products, ideas and innovations for beverage production at Beviale Moscow.
One exhibition for the entire beverage industry
Since 2015, Beviale Moscow started its mission to become the first and only trade fair in Russia and Eastern Europe that gathers the entire local beverage industry all at one place. For the last years, it well established to actually the one and only platform where all sectors of the beverage industry (milk & liquid dairy products, beer, juices & soft drinks, mineral water, wine & sparkling wine, spirits) can find a new home. Beviale Moscow has the entire process chain of beverage production on display and pays special attention to the specific needs of the local producers such as packaging, wine production, international technology and further more.

Bringing this well-established concept to Moscow and adapting it to local needs at the same time creates a fruitful atmosphere and excellent business opportunities for you.

To put it in a nutshell: Whatever you do for the beverage industry - Beviale Moscow is the right spot to present it to the markets of Eastern Europe.
---
Global solutions meet local demands
Local beverage producers are highly sensitive and demanding for international high quality suppliers, knowledge and experience. Especially Russia recently creates a business environment that increases the sales chances for international suppliers in the field of food and beverage production: The domestic industry is officially subsidized in order to make the output of food and beverage self-sufficient. Only the necessary technology is missing when it comes to high quality machinery, knowledge and experience.

Therefore, a major part of supply for the local beverage industry certainly will be imported to Russia.
---
Beviale Moscow serves one of the biggest beverage markets in the world
No doubt about that: In the long run Eastern Europe and especially Russia will be among the major markets for drinks and beverages. Some 250 million people, growing long-term forecasts and proven growth in the past are only few factors that give a slight idea of the opportunities this market can offer.

Right now is the perfect timing to get involved. At Beviale Moscow, you have the chance to experience all this in just three days. Exhibiting at Beviale Moscow means to be part of the most representative platform of a full macro-economic development.
---
Great networking. Great knowledge
Beviale Moscow is more than just an exhibition. Cooperating with leading industry associations, research institutes and experts we will create a sophisticated conference program. At Beviale Moscow you will find both, seminars especially for specific sectors of the beverage industry (e.g. breweries, dairy products) as well as events capturing general trends and aspects of the industry (e.g. energy efficiency, packaging, recycling, solutions for SMUs etc.).
Beviale Moscow combines the hands-on-mentality of an exhibition with the educational aspects of a high quality convention.
Contact for exhibitors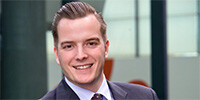 Thimo Holst
Application
You'd like to exhibit at Beviale Moscow? All the important information is available here.
Application to exhibit
Show Report 2019
Assure yourself of the success of the exhibition!
Download show report