Reasons for participating in Beviale Moscow

Take your place at Russia's most sophisticated business platform for the beverage industry. You wonder why to exhibit there? Here are some good reasons why you should not miss this opportunity and exhibit your products, ideas and innovations for beverage production at Beviale Moscow.
1. Russia and the CIS-region form one of the largest consumer markets worldwide.
Some exemplary numbers about the Russian market: 9th biggest nation with a population of ca. 146 million people. Ranked number five in beer consumption and number four in soft drinks consumption. Forecasted annual growth of 2% in average for all beverage sectors.
If you follow an international orientation, Russia for sure should be on your target map. Especially international quality suppliers are preferred when equipping the beverage production facilities in Russia.
2. Import substitution is a major aspect of the recent Russian economy politics.
After years of high beverage imports from Europe and other foreign regions, Russia nowadays follows the approach to accomplish most of the beverage production domestically.
This development means a shift of demand from the final beverage towards technologies and solutions for beverage production. Suppliers and innovation leaders, such as you, will characterize the future import partners of Russia.
3. In fact, Beviale Moscow is the most successful exhibition for beverage production in Russia.
In 2019 some 6,300 trade visitors have attended the exhibition. At no other Russian exhibition, you can find this intensity of professionals from the beverage industry.
With a stand at Beviale Moscow you bring your companies presence directly into the melting pot of Russian beverage producers with hundreds of potential new business contacts.
4. Beviale Moscow is based on a holistic and complete exhibition concept.
The entire chain of beverage production starting from Raw Materials and ending at the Point of Sale; combined with six beverage categories (Wine, Beer, Milk, Soft Drinks, Water and Spirits) form a grid that draws the full picture of the industry.
No matter what solution you have on offer, the Beviale Moscow concept enables you precise positioning and clear identification within the spectrum of beverage production.
5. The big majority of industry associations support Beviale Moscow.
Following its wide but dedicated exhibition concept, almost all major beverage associations in Russia endorse Beviale Moscow. Decisions and talks during the exhibitions have a direct impact on the industry.
For you this means the chance to position your company and your products directly in "nerve center" of the Russian beverage industry.
6. Our various one-stop services at Beviale Moscow minimize your organizational effort.
With an application, you book not only a stand but also access to our wide network of services and professional providers. Starting from attractive stand packages to translation and cargo services – we assist you along the entire way.
We have understood that especially for international SMEs participating in a Russian exhibition can mean a bunch of worries and uncertainties. We help you to take these away and let you focus on your business.
7. Your contractual partner? NürnbergMesse GmbH in Germany, Europe.
The organizer and your contractual partner for a participation in Beviale Moscow is NürnbergMesse, one of the top exhibition companies worldwide. We build a legal bridge to Russia for you.
A German invoice, communication and assistance in your mother language, transparent cost structures, reliable and accommodating handling of any queries. These are only few examples of your benefits from an international leading organizer.
8. A whole bunch of marketing comes with a stand at Beviale Moscow.
All exhibitors have the opportunity to make use of our various marketing options such as for example Webinars, the Online Product Database, Sponsorships, Invitation Vouchers, and Conference Slots. The best about this: Many of them are free of charge.
The three exhibition days only mean the climax of Beviale Moscow. Booking a stand gives you the opportunity to fully benefit from its permanent presence in the Russian market.
9. Beviale Moscow is part of the Beviale Family, the global network of beverage production.
Of course, Beviale Moscow focusses on the Russian market and its needs in the first place. However, as a member of the Beviale Family it also supports the multilateral exchange between important worldwide beverage markets.
As an exhibitor at Beviale Moscow you become a part of the global presence of the Beviale Family. International recognition is ensured.
10. Our promise: personal support, individual handling of your needs and a maximum of exhibitor service.
We know, all market opportunities and business promises mean nothing when the organizer does not understand his job. Since its early beginnings, one of the biggest assets of Beviale Moscow is its very personal approach. We listen, we understand and we create individual solutions.
Contact us under beviale-moscow@nuernbergmesse.de or +49 911 8606 8684 and we will be happy to assist you with any of your needs and questions.
Contact for exhibitors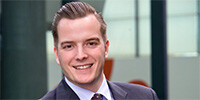 Thimo Holst
Application
You'd like to exhibit at Beviale Moscow? All the important information is available here.
Application to exhibit