Application for Beviale Moscow

Apply for exhibition stand online
The application deadline for direct exhibitors for the Beviale Moscow 2020 was on 19.11.2019.
Are you still interested in exhibiting in Beviale Moscow 2020?
Then please contact us:
Fotos: Anmeldung/Application © psphotograph / istockphoto.com
Contact for exhibitors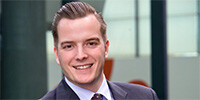 Thimo Holst
Information brochure for exhibitors
This contains all the important information you need as an exhibitor.
Download information brochure
Review
Assure yourself of the success of the exhibition!
Download show report