Facts and figures about Beviale Moscow

Tuesday, 16 - Thursday, 18 March 2021

Save the date to my calendar
Product spectrum
Discover the whole range of options of Beviale Moscow.
---
Performance figures Beviale Moscow 2019
Exhibitors: 164
Trade visitors: 6,239
Exhibition area: 2,178 square metres
You can find further figures for your exhibition planning in
the review of Beviale Moscow 2019 .
---
Entrances & hall allocation
Main Stage, Moscow
---
Travel infomation
For all travel information use the

.
More Information
Navigation information | Plus Code: 9G7VPMCM+7Q, Moscow (Russia)
---
Our Beviale Moscow team
Our exhibition team is your personal contact for all questions relating to Beviale Moscow.
Your direct contact to Beviale Moscow
Fotos: Daten & Fakten/Facts & Figures © iStockFinland / istockphoto.com
Contact for exhibitors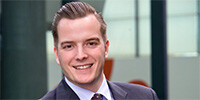 Thimo Holst